空間限制了人與人之間的物理距離,但希望借由線上縮短了人與人之間的心靈距離。

The distance limits you to visit tea plantations, however we wish to bring you there through our teas.
品牌故事 Story

柳隅茶舍 LiuYu Tea House
空間限制了人與人之間的物理距離,但希望借由線上縮短了人與人之間的心靈距離。

在萬華有一家茶館──柳隅茶舍,接待許多來自世界各地的品茶人,然而當旅行不是那麼容易的事,我們決定開設網站,在下次見面前可以讓您認識我們。

我們有專屬的茶師、十來個契作茶園。我們的茶師帶領經驗豐富的團隊,細心採摘當令的茶葉,以藝術家的眼光與行家的手法,為各地、各季、各款的茶葉揉製出獨到的味道。希望可以秉持著傳統製茶工法,卻又帶給愛茶的消費者新的風味。

茶好像都是由長輩傳承給我們的一個記憶,那麼自然,那麼的理所當然。但是當我們想要去找那個味道時,卻又不得其門而入。
在柳隅茶舍您可以很簡單、輕鬆的方式來進入這個充滿回憶與香氣的茶世界,我們提供了不同的入門方式,希望能讓消費者能在最沒有壓力與距離感的情況下品飲。

The distance limits tea drinkers from travel to tea plantations. We are based in Taiwan and we have access to 11 tea plantations in various terroirs across Taiwan. We also have our own tea factory, where our exclusive tea-making master, Sean, adds his touch to the tea leaves carefully hand-picked by an experienced team.

LiuYu Teahouse is in Taipei, where we welcome many customers from around the world. And we understand that travel isn't that easy and accessible for everyone, therefore, we decided to shorten this distance by bringing our products and services online, so you could meet us prior your next visit.

We wish to bring Taiwanese tea that we are so fond of at your proximity and it is up to you to choose the distance between you and LiuYu Tea. We wish to provide the easiest, yet, a good tea experience to you.

The main reason that we work with only Taiwanese Tea is because we can see how it grows and make it. We also have full control of quality, to ensure we present what we believe to our clients.

Taiwan has so much to offer in terms of agriculture, because of its massive mountains. It is incredible the amount of tea varieties we could make from tea trees, but different seasons and methods. And its quality surpasses many, so I wish to make you see Taiwan's beauty through our tea.
- Our Services
自己與朋友獨享
Enjoy tea alone and/or with friends

在寬廣安靜的品飲環境中,採一人一組茶具方式,自沖自飲各式台灣好茶,另有各色傳統茶點、果乾可配茶享用。 茶品價位從160元起,不限時、不限沖泡次數。二人以上共飲一壺茶,第二人起酌收共茶費一人100元(為確保良好品飲經驗, 同一套茶不建議超過三個人共茶)。更換茶葉,茶品可享五折優惠。 提供中英文對照茶譜,也歡迎外國朋友前來。
In a comfortable and calm environment, guests could select various tea from Taiwan and traditional tea snacks that pair well with tea. Individual tea set ensure each guest could enjoy their own tea, however, a water surcharge (NT$100/per.) will apply if they wish to enjoy it together. Tea selection starts from NT$160 to NT$800.
為沒有喝茶經驗的客人或想深度了解茶葉相關知識的客人提供客製的服務。 與Gin品飲2-3種茶品,並將介紹當天品飲茶款的特色、茶園、茶文化等等。 需2-3天前預約與討論細節。
價格:500起/人
(最少2人至多5人)

中文、英文、法文、粵語皆可
For those who want more insight about tea and wish to ask questions, you can make a reservation for a tea tasting session with Gin. English, French and Cantonese service is available, an advance 2-3 days reservation will be requested. Price: NT$500/pers. (min. 2 persons per session, up to 5 guests to ensure service)
有鑒於許多客人對於「茶是怎麼來的」有極大的興趣,故柳隅茶舍可以安排拜訪茶園與茶廠的方式。此服務需與茶師雄哥約時間,因此費用與細節需來信詢問。
Many clients are curious about how tea became tea, therefore we could arrange a possible visit to the tea plantations and tea factory. This activity needs to make arrangements with Sean, please contact us for further details.
為了讓茶能讓不同的客群喝到,我們有許多合作夥伴把柳隅的茶提供給他們最重視的客人,目前我們合作的有飯店業者、咖啡館、餐廳、等,我們深信好的品質有無限可能,有興趣者歡迎洽詢。
We believe if we walk alone, we can't go too far, but together, there's an infinite possibility. We are more than proud to work with various collaborators in Taiwan and also around the world. We supply tea to hotels, cafes, restaurants and patisserie. Contact us for inquiries.
- Meet Us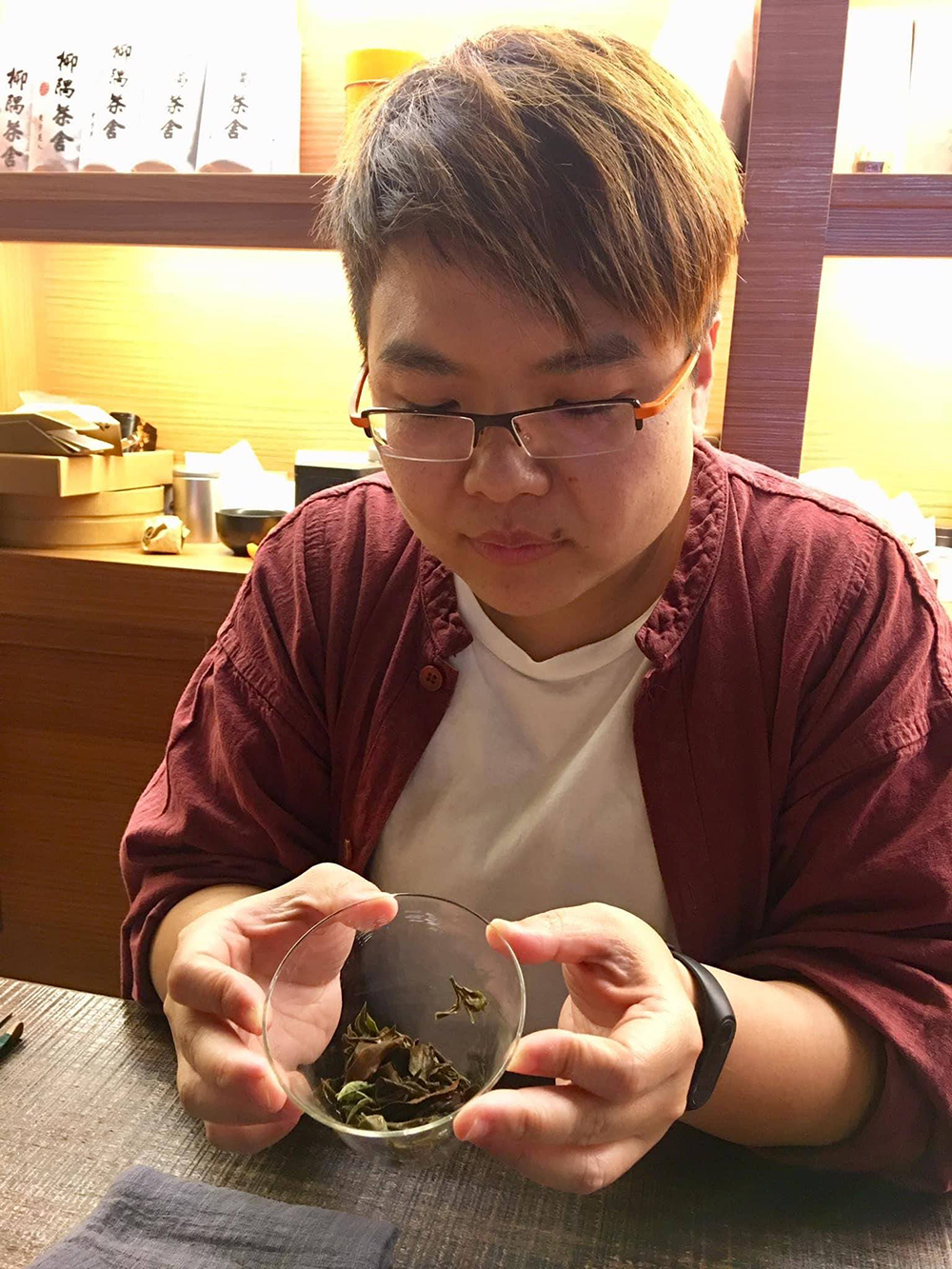 從國外回來後店小二在貿易公司上班與多年,也努力的學習融入台灣生活。在被西方文化影響下, 見到咖啡館林立于台灣大街小巷,茶館倒是見不到幾間,甚至比我們想像的還要少。

秉持著一個小小的想法:外國人來台灣旅遊,沒有想要喝咖啡,柳隅茶舍因此在龍山寺對面的地下商場誕生了。 其實本身對於茶也是陌生的,茶館開幕後邊做邊學,卻也發現原來喝茶的人口少之又少而且。

想要了解其中的知識也是不得其門而入,一直到後來認識了陳大哥,直接到山上去了解種植與製作過程才漸漸一知半解。 因此從很簡單的販售到希望能真正的推廣台灣茶品給初學者與外國人。希望用最簡單的語言去介紹台灣的好茶, 讓客人在店內用最簡單又不失傳統的方式喝茶。

Host: Gin
Gin grew up in Montreal and returned to Taiwan after her studies. After working many years in several trading companies, she decided to start a teahouse with a simple idea: Foreigners don't travel to Taiwan for coffee. Influenced by western culture, coffee is very common in Taiwan. Cafes are simply everywhere, however traditional Taiwanese tea houses are simply not as available as we thought they should.

Gin wants to have a teahouse for people that is new or unfamiliar to tea. She could explain tea in its simplest words and easily get reference from her western culture influence. She believes that if people can drink tea with less hassle and enjoy tea at its simplest way, people are willing to drink tea again.

At her teahouse located in Taipei, Taiwan, she redesigned the tea service by offering one complete tea set per person and preparing the tea with explanation at the table, enabling barrier free tea experience. Now, she wishes to bring Taiwanese Tea more accessible by Proximitea, for those that cannot travel to Taiwan, yet.
雄哥是南投人,家裡製茶已經三代,家族的親朋好友都跟茶有關。
但他堅持做自己理想中的茶,所以放棄家中的資源自己創業。

他深信:一口好茶必須來自乾淨的土地。為了達到他的理想,他放棄大家普遍追求的產量與效率,只在乎品質好不好。

數年來為了實驗他的想法,他全台到處尋與嘗試不同製法與製程,為此他也到處幫忙別人的茶園與人交流。
後來才選擇落腳在新竹專注于手工茶,希望能把他認為的好味道給大家品嘗。






Tea Maker Sean Chen (Mr. Chen)
Sean is our exclusive tea maker at LiuYu Tea. From a tea family of 4 generations, he was influenced deeply by his grandfather's philosophy about tea plantation. He believes that a good cup of tea comes from clean soils and required step-by-step manoeuvre.

Seeing his family is seeking for quantity and pursuing higher productivity. He decides to leave his family to pursue his ideal tea. Starting from scratch, he had helped various tea plantation owners to make teas in exchange to have his own fresh leaves to experience his ideas about a good tea. Slowly, he was able to acquire a tea plantation from owners that couldn't manage it anymore. Up to this date, with various ways of cooperation, he is accessible to 11 plantations across Taiwan.

With Sean's help, at Proximitea, we are able to provide a rich variety of Taiwanese Tea. All the teas were tested many times together with Gin, optimizing the tea experience of each client.
擁有親切的笑容,總是把客人當做回家的家人。

柳隅茶舍的柳就是她的姓,因為茶舍的前身是她經營的。後來因為支持Gin, 願意重新改變經營方針。
從朋友手上接過來養的小鸚鵡。雖然只有一隻腳,卻善用自己的腳與嘴靈活的移動著。

個頭小小,總是用可愛的叫聲強調自己的存在感。

最喜歡把老闆娘挑出的粗茶梗當玩具咬著。最愛找Gin、在茶桌上晃來晃去。
小精靈:各種不定時出現的助手
在不同時候認識的好朋友們,最強的後盾。

在柳隅出去擺攤時,接活動時或者需要包裝時自告奮勇,善用自己的專業來幫忙。
- Info
- What are the tea categories stands for?

The conventional teas are widely available through Taiwan, and commonly found in local tea shops and tea houses. Even these teas are easily found, but we carefully selected each tea from collaborative tea farmers and made them a category that is ideal for new tea explorers, and also for souvenirs.

The handmade teas, the sun dried teas and the exquisite teas are teas that are made with our in-house tea producer Sean. We produced these teas according to the tea leaves that we harvested. We tried to minimize the use of machines in the process and involve the natural process to its maximum. Machine is to help us to reduce some labor, but not to replace the necessary production procedure. And also, Taiwan receives lots of precipitation throughout the year, therefore, not all the teas could be sun-dried.

Certain teas when completed, due to many aspects, have attained an outstanding tea in our point of view, we will categorize it into our Exquisite Tea categories.
- What is the oxidation level and roasting level?

Oxidation and roasting are the two main steps in the making of oolong tea. Taiwanese teas are mainly oolong teas and the major tea cultivars in Taiwan are suitable for oolong tea. The oxidation level is ranked from 0 to 5 star, 0 for green tea and 5 for black tea. Low in oxidation will preserve the freshness of the tea leaves, the tea color varies from green to a golden green. As for a high oxidation level, it will give tea an amber color to dark brown and it will give the tea a fruity flavor to sometimes wood like aromas.

As for the roasting, it really depends on the oxidation level; we will not roast a green tea, for example. In general, a high oxidation level could reach a high oxidation level. TiGuanYin is a good example of high oxidation and high roasting tea. Roasting makes the tea even more complex, and with the roasting process, the tea could change its flavor during its storage. It is possible that a tea tastes better after it has been stored for 3-6 months and it will keep on changing through time. Also, depending on the humidity of each place, tea could change maybe faster in Taiwan than in Europe. We could refer to post-oxidation or aging a tea.
- Media Report
◎電視節目 平面媒體
2021. 公視 防疫旅館

2018.10 《AZ Travel az旅遊生活雜誌》no.185:柳隅茶舍,回歸茶本質
- Reach Us
如何來:

開車、計程車、公車:背對龍山寺大門,廣場右手邊電扶梯往下(龍山寺地下街五號出口),於許願池旁邊。龍山寺地下街亦有停車場。

捷運:藍線龍山寺站,從電扶梯方向出站(一號出口方向),出站後往右手邊看到遊客中心,從遊客中心右邊的門進入地下商場,走到盡頭即可見到10號店鋪。